Are Kourtney and Travis the perfect match or will their marriage be another victim of the Kardashian Curse?
We've seen the family's relationship drama play out on TV, Kourtney and Travis included. Viewers of Keeping Up With the Kardashians may remember Blink-182 drummer Travis Barker appearing on the show with his then-wife, Shanna Moakler. Their marriage only lasted four years. Meanwhile, Kourtney was in a rocky on-and-off relationship with Scott Disick for nine years.
Single and living in the same California community, Kourtney and Travis started hanging out platonically in 2018. The PDA-loving couple confirmed their relationship in January 2021 and announced their engagement that following October.
Kourtney and Travis have had three weddings so far. They first got hitched in Las Vegas, then got married at a Santa Barbara courthouse on May 15, 2022, and had a lavish Portofino, Italy ceremony on May 22, 2022.
Kourtney Kardashian Zodiac Sign
Kourtney Mary Kardashian was born on April 18, 1979, in Los Angeles, California.
Aries is a true Fire sign. Headstrong and passionate, Aries works hard, loves adventure, and gets restless easily. Overzealous Aries can come across as impatient and may have a reputation for being impulsive and confrontational.
Aries is full of energy and crave the rush of adrenaline so a partner with similar thrill-seeking interests is a good match. Aries is loyal but hates to feel restrained.
Travis Barker Zodiac Sign
Travis Landon Barker was born on November 14, 1975, in Fontana, California.
Scorpio is sensual and sensitive. Their love language is physical touch and they crave attention. Sensitive Scorpio can't stand secrets. They need relationships to be built on truth and honesty. They also need a partner who won't be overwhelmed by all of Scorpio's feelings.
Scorpio is an empath so it's hard not to pick up what other people are feeling. They need someone they can communicate and share with openly. Scorpio has a bad habit of holding a grudge and must be careful not to poison themselves with their own anger and negativity.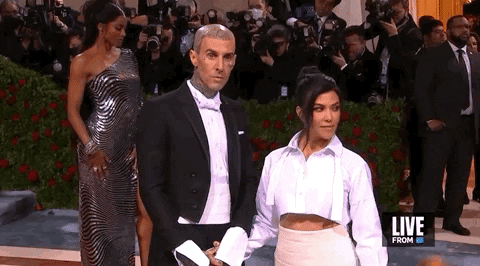 Kourtney and Travis Zodiac Chart
Amanda, an empathetic spiritual life coach, took a deep dive into Kourtney and Travis' compatibility and created a natal chart for the pair.
Examining birth charts and partner compatibilities gives experts like Amanda an impression of how the stars line up with each other and the energies that they present in the relationship.
Let's take a look at what the stars say about Kourtney Kardashian and Travis Barker.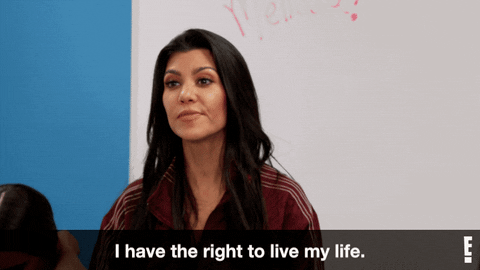 MARS (Travis) square MOON (Kourtney)
This aspect can be challenging at times because there are great passions that lead to conflict and misunderstandings. There is both physical passion and emotional aggression that needs to be communicated. It's important to her that she's a priority to him at all times.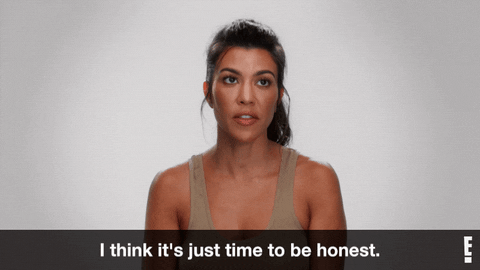 VENUS (Travis) square MERCURY (Kourtney)
The miscommunication continues in this placement. It's a challenge to see the other person's views as they have such different tastes and ideas at times, There seems to be a need to convince each other of their own ideas instead of having an open perspective. The bickering energy in this placement can definitely eat away over time in the relationship.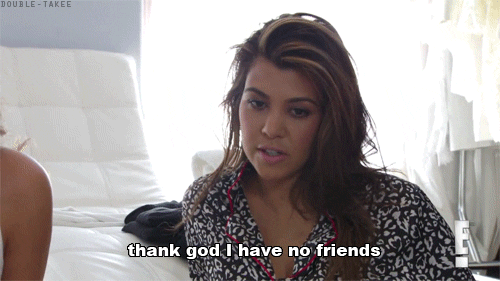 VENUS (Travis) trine SUN (Kourtney)
It makes sense they started as friends first. This placement is a good foundation and balance of friendship with love and passion. The placement of this aspect in their charts is really about enjoying each other's company, going on vacations, enjoying leisure time together, and releasing the stress of their lives. On the downside, there's an energy of him trying to gloss over issues to keep the peace.
URANUS (Travis) in conjunction with SUN (Kourtney)
This is also another positive aspect. With this placement, she will be enriched by what he brings into this connection. He offers different tastes and experiences that she may not explore otherwise. This aspect shows his need for a sense of freedom and so it will take balance to create that.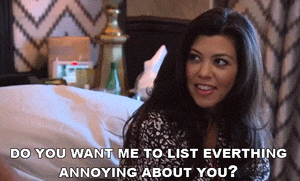 SATURN (Travis) square JUPITER (Kourtney)
This is a challenging aspect. They have a lot to teach each other. They're very different. These different perspectives and ideas can be very challenging. They need to be open and learn from each other. It looks like she is a risk-taker while he's very cautious.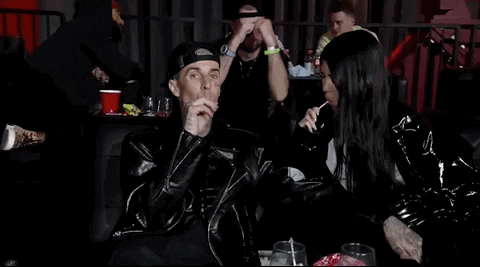 LILITH (Travis) square SUN (Kourtney)
In this placement, we see that his dark side might interfere with the strong-willed festive energy of her sun. So this is definitely a balance for him to understand that they might have different types of humor or interactions regarding the dark energy that resides in each of us.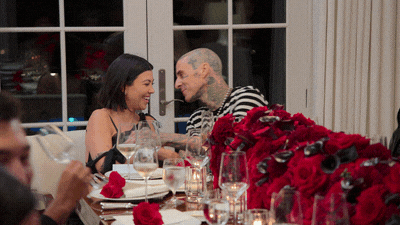 SATURN (Travis) sextile MOON (Kourtney)
This placement is good energy for long-term compatibility. It suggests they balance each other out beautifully. She nurtures his passion and desire with energy.
MOON (Travis) opposition MOON (Kourtney)
Opposing Moons suggest her personal habits and his emotional needs are at odds at times, particularly when one wants to go out and the other wants to stay in. It builds up over time and feeds that bickering energy. Yet. there is an emotional bond. They have to respect how the other unwinds and make an effort to understand each other.
Can passion win over frustration?
The birth chart for Kourtney and Travis shows great chemistry and passion, but it's an "opposites attract" connection. At times, the opposites can be like a magnet and pull them in or they can be reversed and repel each other. This chart shows a lot of frustration. One wants to feel like a priority and the other craves freedom.
If they're not careful, bickering and nit-picking can eat away at the relationship over time. Success requires that they continue to understand each other's differences without forcing change or restraining each other. They'll have to work hard to listen without being defensive.
The compatibility between Kourtney Kardashian and Travis Barker is definitely very strong. The ups and downs will be challenging but their bond is strong and there is real long-term energy. I think they likely want to expand their family and get a feeling there may already be a baby on the way with a due date in October or November.
Want your own personalized natal chart or natal chart compatibility? Amanda is an empathic spiritual life coach with more than 20 years of experience helping people. Contact her about natal charts, spell jars, chakra balancing, spiritual guidance, and more. Connect with Amanda today!